At Lift Women, We Listen, Inspire, Fund & Trust Women
Every woman's story, needs and ideas are unique. We promote active listening, constructive review and ensure every voice is heard and reflected.
We nurture, protect and empower thinkers and dreamers. We facilitate learning and connection between women. We shed lights for each other.
Funding is one of the biggest challenges that many women face when bringing their dreams to life. We provide an alternative funding option which is simple, accessible and affordable to all women.
We are a safe place for women to connect, inspire and empower each other. Together we celebrate success and tell the world for the recognition and visibility that every woman deserves.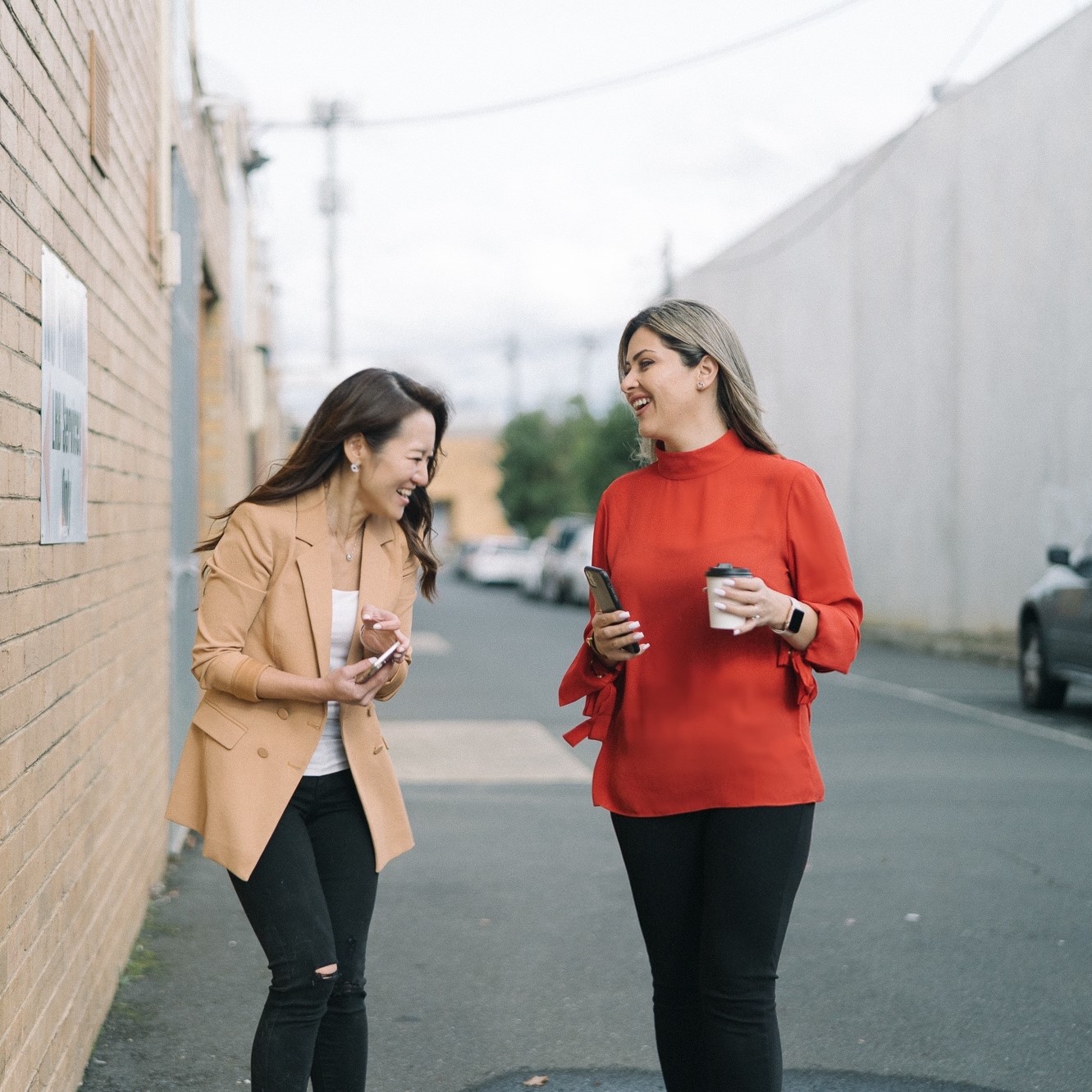 50% of our profits go right back into our community
Skincare Range for Tweens! Helping tweens feel confident and included in the skincare industry

A natural, organic, cruelty and nasties free skincare line for young tweens

Women Supporting Women Australia

WSWAU provides support, giving the women of Australia the empowerment to improve their lives, careers and business in a safe environment.

Could we create our vision of a better world if we were to be more creative?

Relieve suffering: sUpport the mental health of the professional for a more resilient community

sUpport aims to foster a sustainable workforce of mentally healthy, mental health professionals in turn creating a more resilient community.

Putting the mindfulness back into consumption — one ethically, hand-crafted bag at a time

Vegan, cactus-leather handbags. A brand committed to eco-conscious design, environmental conservation and thoughtful consumption.

Professional Career Support for Women Re-entering the Workforce

Helping women re-enter the workforce and secure their dream role.

An Exciting Internet Security Awareness Online Camp For Young Kids Who Love Internet Too Much

Our digital camp converts kids into little engineers who know how to fight against Internet Crimes and how to surf through Cyber Waves safely

Commissioning Art: A Handbook for artists, councils, governments and developers

We have supported 1620 creatives We have supported and given back $1.4 million Australian dollars back into the creative community

Tiny Tree – Flatpack Christmas Tree

Tiny Tree is a Sustainable, Flatpack and Modern Christmas Tree.

Eco-friendly Gift Hampers that wont end up in landfill

Gumleaf Gifts Australia provides gift hampers that contain eco-friendly and hand-made gifts that wont end up in landfill!

Empowering Women's Events

Reducing barriers female entrepreneurs face by gaining access to affordable education (online university), networks, resources and mentors.

Dojo Finance – Wealth, made easy

Learn, track, & earn rewards to reach your financial goals faster.

Thank you lab is a project for creating an easy, affordable and customise gifts

Thankyoulab is a business created by a mom who realize that it will be great if we can have a choice to customise our gift at a reasonable price.

Ortho-Jo, Ortho-Bionomy by Joana

Ortho-Bionomy is a form of therapeutic bodywork based on the principle that the body can heal itself.

Brave New Skills Australia

Brave New Skills is a game changing education portal for a brave new world which celebrates creative, environmental and emotional literacy

A networking event showcasing Melbournes Creative Industry. It's time to breathe life back into the Arts industry and allow performers to finally do what they do best, perform! Check out our project page to see what our event will look like and how it can help you!

THE CLEAN SWAP BOX: A positively different beauty box

A seasonal clean beauty box of beauty-therapist approved, must-have items. Supporting + elevating Aussie beauty brands that are female founded.

Dog Training Lifestyle for the Pink Paw Program

"WE ENVISION A WORLD OF EDUCATION TO IMPROVE THE LIVES OF OUR ANIMALS AND PUT A STOP TO SURRENDERED DOGS, GLOBALLY."

Peace during PMS – Use the Power of your Cycle to Create your Business and Lifestyle with Heart

Peace during PMS - Use the power of your cycle to create your business and lifestyle with ease, flow and heart.

I.AmSkincare – using creative technology to provide skincare that actually works

A tech-powered offering that delivers customised facial oils and serums formulated based on an individual's specific skin type and lifestyle.

The Brain Injury Community

Peer Support programs to help ease depression, social isolation, loneliness, & helplessness felt by those living with a Brain Injury & their community

Join the plant social marketplace app, connect with people locally or across Australia and find your perfect plant and accessories.

Find confidence, empowerment, health, energy, performance and overall wellness through the art of breathing

We breathe every moment of every day, in fact we breathe on average 20,000 times per day. Although we breathe without conscious thought, breathing i

Reducing Financial Inequality through Mentoring to Advance Women

Empowering young females to be work ready and successful in their career development through mentoring and financial empowerment workshops.

Providing people with neuromuscular disabilities a safe and independent night's sleep

We are developing a world first neuromuscular disability friendly bed to give safety, autonomy and independence back to people with impaired mobility!

A subscription wine company with the goal of spreading knowledge about Australia's wineries in different regions and supporting local.

Guiding people with hearing loss and their families to conversation-friendly restaurants. Please help us turn our website into an app and go National

Djambies (Friends) In a Box – a subscription based business.

Djambies is the Gunaikurnai word for friends, we want to support individuals to learn more about Australia's true history and become true Anti-Racists.

The aim is for my clients to feel safe and to empower them to live a life with joy. They will be given the tools to create a positive future.

Reducing violence against women & girls through Empowerment Self Defence

There is nothing like the experience of witnessing and embodying your inner strength to really feel empowered. We are fundraising for a padded suit for our instructors which will enable us to offer our participants the best learning experience through using full-force in our real life scenarios without the fear of injuring anyone.

West Women Mentoring Collective

This group is about mentoring and supporting women from all backgrounds to become leaders in the West .

A sanctuary for new mums to relax, restore and re-connect with themselves, their identity and vitality.

Synergy Functional Foods, developed by scientists, pack a unique combination of natural ingredients into a delicious treat to target Dementia.

Do you miss going to concerts, festivals and the theatre? Imagine the fun of having sound in your own home that sounds as good as it does live!

Protecting Young Women through Consent and Sex Education: Consent Labs

Consent Labs recognises the need for greater awareness of consent, sexual harassment and assault, and provides positive change through education.

Providing Care, Comfort and Compasssion through care packages for bereaved women and couples that have suffered a miscarriage or pregnancy loss.

Progress Magazine is Australia's first self-development print and digital magazine for women working on themselves, FOR themselves.

DiverCity, an eco-project creating space and giving opportunity for creative, cultural and ecological minds.

DiverCity is a project of event's creation aiming at giving opportunities to creative members of the community.

The Creche Project- A grass-roots solution to the Australian child care and mental health crisis

The Love Usagii project – making her dreams come true

An online boutique store and humbly run by an individual woman who is seeking their authentic self.

A Period Revolution: Embrace The Flow

We are sisters with a mission, to remove the stigma around menstruating & enable women to have periods that are easy, care free & good for the planet!

The Lovelore Digital Wedding Planner

Inspiring and empowering couples around Australia to plan their wedding their way!

WE SEE YOU: SEqueer promotes LGBTQIA+ businesses, locates and shares safe spaces, and highlights sustainable practices.

A service to assist in the rental crisis, we do life coaching, advice, budgeting, cover letters, rental applications, in time build home communities

Kid & Hue- Simple, super soft kids clothing in a rainbow of colours

No logos, no labels, no limits. Just simple, super soft clothes in a rainbow of colours, made for every kid. Welcome to kid & hue.

Young Voices for AusBiz aims empower young people by giving them a platform (in print, online, social, video and via podcast) to share their opinions.

"Every woman in the world deserves to have access to a safe and welcoming environment." Sall Grover, Giggle CEO

She Is P31 – Christian Women's Diary

An all in one multipurpose diary for busy Christian women - but busy not for the sake of busy - busy, living out their purpose in Christ as a Proverbs 31 woman - a life of "Purpose Not Perfection."®™ 268 pages hardcover; specially designed intentional Christian prompted pages. Quarter yearly lifespan. Undated.

Our purpose is that no-one walks the journey of pregnancy and infant loss alone

Krillin Robotics and Technologies

We build practical robots and smart technology systems that solve everyday problems to enhance human efficiency, wellbeing and livelihood.

Angel Mammas – Gift Boxes for Bereaved Mothers

Angel Mammas gift boxes were born through my own experience of loss. Wrapping mums up with love and care during one of the darkest times in her life.

Compassion Creamery – Artisinal Oat Cheese

Crafting artisanal oat creme cheese, free from dairy/nuts/soy so you can feel good, from the inside out. #TreatYourselfWithCompassion

Van Adventures Luxe Campervan's

Van Adventures offer the ultimate Luxury Vanlife Experience. We build and rent bespoke campervans that are one of a kind and sure to delight!

Boxing Gym for Youth & Indigenous

Fitness Training and Boxing Training and Fitness for Youths and Women,

The #everydayclimatecrisis Visual Petition

dARTbase – on demand creative talent marketplace

We allow artists to sell creatives skills and products, industry services to sell their services to artists and clients to buy creatives skills.

EMPOWER SUCCESS MEDIA LAUNCHING GLOBAL WOMEN EMPOWERMENT WEBINAR SUMMIT

Pépin organic skincare: a Doula experience with a value for Sustainability

Pépin is an organic, non-allergen, skincare for bubs and mums. Pépin has been designed as a doula experience with a strong value for sustainability.

We want to share our love for mindful dance movement through community connection. Health, Healing, Empowerment and Joy

Rainforest Wellness Retreat

We come to you with hope that our Rainforest Wellness Retreat can continue in healing and empowering with your help.

You Glow Girl – Mental Health & Positive Wellbeing Program for Girls 6 – 11 years

First Colours – Making Sustainable Fashion Accessible

Hapi by Yogat – An app that gives you access to yoga and art classes

Imagine you could join a yoga session, learn how to sculpt with clay or paint a masterpiece all at the touch of a button and from the comfort of your own home?

IDEACLIP is a Social Collaboration Platform bringing individuals, businesses and charities in one loop to create a POSITIVE SOCIAL IMPACT.

BEACHFRONT ICECREAM – Venus Bay

Brightening Victoria's stunning seaside town and bringing beach side ice cream to the people!

The Postnatal Project aims to provide a unique combination of professional and lived/personal experience to promote a balanced approach to parenthood.

Peek a bras: One bra, lots of possibilities. Ready to unlock your wardrobe's potential?"

Bra skins change the look and colour of your bra so you get the support you need, while wearing the fashion you want in minutes.

Event and Wedding Planning service with Sisters Cafe

Gold Coast Event and Wedding Planning service with Sisters Cafe.

AKCSIS is raising awareness of the importance of child restraint use in rural and remote areas of Far North Qld with education, training and support.

Biodegradable Bamboo Nappies supporting Survivors of Family Violence

Biodegradable bamboo nappies on a mission to tackle family violence in Australia.

Empowering our Youth – Menstruality Education Programs

We offer Positive Menstrual Education and Wellbeing for all our youth. Help us to help them.

Helping Mums take time out for self-care

muMEcations is a not-for-profit organisation on a mission to help women prioritise self-care and improve their mental health and wellbeing.

Mimi – Unique Wheelchair and Stroller Blankets

Unique blankets for wheelchairs and strollers, that stay on. Mimi blankets are beautiful, practical and durable.

Empowering Women to Achieve Financial Success

We provide women with the right money mindset, through an online step by step program.

High End Hammy Downs – a matching app for your kids clothes

Like Tinder for your kids clothes! Be matched with like minded families/parents to swap kids clothes.

The Positivity Movement- Spreading Positivity

We help raise Awareness around Mental Health and Disabilities and to, ultimately, help you find your Joy in life.

Calligraphy for change – Raising awareness of cultural crafts and conscious consumption

A new form of selfcare - Nurture your mental peace with the sense of bliss from one of the most respectful heritages of Chinese Art.

Feelix Yoga Strap – The flexible carry and stretching strap

Whether you practice in a studio or on top of a mountain. Ethically made, original design, stretch and carry yoga straps. Handmade in Australia.