Overview
Mandi and Whitney here, the founders of The Clean Swap Box!
We have a few questions for you…
Do you love beauty products? (Silly question, who doesn't?!)
Do you like to try the best new products on the market? (but can't spend your entire pay keeping up)
Are you interested in trying to make the swap to cleaner ingredients in your products?
Do you think it's important to support Australian + female founded brands where possible?….if you answered yes to two or more of these questions, then darling, do we have something special for you 🤗

IMAGINE THIS SCENE
Every season as the weather is shifting and your habits are changing, a beautiful box lands on your doorstep.
You open the recyclable and biodegradable packaging, slip your finger under the sticker that keeps the beautiful tissue paper wrapped neatly around the special contents.
You lift the tissue to reveal… five full size items that are *perfect* for the new season. No box full of wasteful, single-use samples from brands you can shop anywhere. Instead, you find beautifully packaged, beauty-therapist approved products with clean ingredients. From independently owned, female founded Australian brands.
You love it so much you send one to your dear friend Anna in lockdown, and it really brightens her day. You decide to have a Netflix Watch Party together, while you use your new Australian yellow clay and turmeric clay mask on your freshly cleansed skin, sip some antioxidant-rich beauty tea as you comb your new hair mask through your locks, and use your copper gua sha to really push in the hydrating and spring-perfect night oil you both received.
You can't believe you paid just $99 for ~$250 of beauty products.
Literally just $1 a day to always have the newest products on the market, hand-picked by two beauty therapists that have been in the industry together for over 16 years. Your skin, hair and health is LOVING these clean ingredients and results driven products.
And that feeling of your dollars going towards a group of female founders looking to make their mark on the Aussie beauty world…? The best icing on the feel-good cake.

MANDI + WHITNEY, FOUNDERS OF THE CLEAN SWAP BOX
We are Mandi and Whitney — friends, Mums, and beauty industry veterans of over 16 years each. We know the changing needs of your skin between seasons and how fun it is to use new and effective products. We love introducing people to the next big thing that is going to really up their beauty game. And we really believe in using our dollars to support Aussie women who know their stuff and have created something great.
We created the Clean Swap Box with a few key principles:
OUR MISSION:
1) Being conscious of the ingredients in our products. TIME IS UP for cheap, toxic ingredients! We help you make the swap to cleaner, and often more effective, brands.
2) Making your spend count. Aussie women are paving their own way more than ever before, and we're here to support them (whilst delivering exceptional value to you!). Our model is positively different—we ensure brands are not out of pocket to participate in our box (the common model is to ask brands to donate their product, or are paid just 5% of the retail price, making it hard for really great small or new brands to participate).
3) Full size products! We want people to use all their products, and if they love it, then repurchase it. Sample sizes are wasteful, often tossed away, and don't establish any brand loyalty or show the true benefits of a product. Hands up who has two unopened crushed sachets floating around their bathroom bag 🙋‍♀️
WHY ARE WE RAISING MONEY?
We are raising money for two reasons:
Marketing: We don't have the capital to invest in ad spend, so are running a grass roots campaign to get The Clean Swap Box out in to the world. Doing contra collaborations with micro and nano influencers, sending surprise boxes out to deserving people in lockdown, running competitions in our local areas…we're full of ideas! While these are all low-cost marketing strategies, we do need a small amount of capital to fund these efforts. We choose to pay our featured brands a very fair price, and always upfront, which means that our bank account has been depleted before we've been able to put the box up for sale. We're a small brand with big goals, and need a little help to take the financial strain off.
Retail products: We truly believe in making small changes to your routine with products that are better for you and the environment. We are looking to launch a few small Clean Swap branded products for online and retail sale to boost our visibility. Our precious metal copper gua sha beauty tool will be one of them, in addition to some products that will reduce the number of single use items you may use in your routine (stay tuned 😉 )
There, of course, is a small amount of outlay in purchasing these, and we would really love your help.
We'd love to have you as part of our growing community, and to indulge you with beautiful, useful products. Peep us on Instagram @thecleanswapbox , and check out our beautiful rewards. Thank you for taking the time to read this, and for supporting women in business xx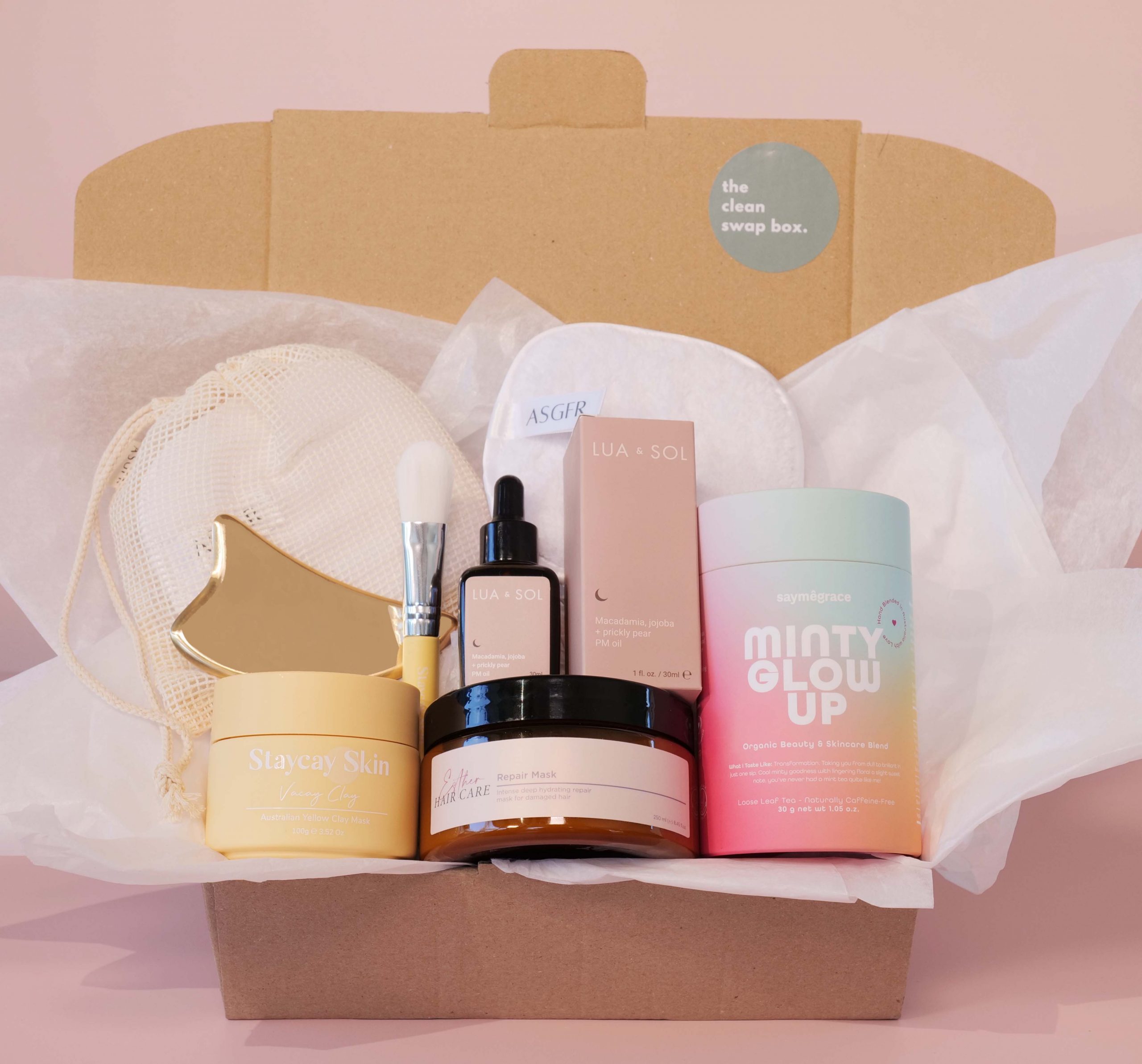 Rewards
Thanks, friend. Receive a super soft, sustainable, reusable makeup removing facial cloth. - $25.00
Limited: 48 left of 50
Donate $25 to our project and you will receive a Clean Swap branded reusable facial cloth.
The softest and most sustainable way to remove makeup– no need for wasteful, skin stripping makeup wipes again! Use just with water, or to remove your facial cleanser without pulling or being too rough on skin. Lasts 3+ months, just toss in the wash every few days.
Clean Swap Fact: Do you know that 20 million makeup wipes are tossed away DAILY? This accounts for 3.5 billion kgs of landfill each year, making wipes the third most wasteful product in the world. Time to make the clean swap!
Receive a precious-copper gua sha beauty tool (valued at $65) - $50
Limited: 97 left of 98
Gua sha beauty tools are the simplest way to feel like you're getting a professional facial massage, right in your own bathroom! Follow our simple usage guide and glide it across the skin to; a) help products penetrate deeper (especially facial oils) b) to encourage lymphatic drainage (bye-bye puffiness) c) to massage your face and neck muscles, relieving tension and tightness you didn't even know you were carrying. Copper is a healing, antibacterial metal, and very unique compared to the gemstone and plastic gua shas on the market (also no breaks if you happen to drop it or knock it off the vanity).
Receive our Spring Box valued at $250 (or send to a loved one) - $99
Backer Count: 9
There is nothing more beautiful than when the sweet smell of swing starts to move through the breeze…. except for a Clean Swap Box landing on your doorstep to help your skin with the transition to warmer weather 🎁🌸
Brighten, exfoliate and detox your skin. Hydrate your locks. Sip soothing and silica-rich tea for hair, skin and nail strength. Apply the best night oil you've ever tried and have soft glowing skin by morning. Drive in the antioxidant-rich oil, de-puff and sculpt your features with a copper beauty tool.
The Spring Box is packed with ~$250 of value, containing 5 full sized items. It includes:
Staycay: "Vacay" Australian Yellow Clay + Tumeric Mask and brush (valued at $50)
Esther Haircare: Deep Repair Hair Mask ($35)
Precious Copper Gua Sha ($65)
Lua + Sol: PM Oil ($58)
Saymegrace: Minty Glow Up Beauty Tea ($28)
Enjoy these beauty therapist approved products, or gift to a loved one 💛
A Spring Box for you, and one for a friend! - $200
Backer Count: 0
Not only are you glowing, but you're generous! We'll send a Spring Box for you, and one for a friend. Or gift them both! A beautiful thought for loved ones in lockdown. Let us know if you'd like a special note to the recipient 💛
The Goodwill / Generous Soul / Good Juju gift. Starting at - $200
Limited: 1500 left of 1500
My goodness, you are a very generous soul. Thank you for supporting new business, female founders, Australian owned and made brands, and educating people about clean ingredients in their personal care products. We will reach out to you accordingly to work out a token of our appreciation. This could include first access to future boxes, being the first to receive special new release products, personalised online skincare consultations, or finding someone reallllly deserving to receive a Box on your behalf. We would love to find a way to thank you that feels good and recognises your kind heart.
Stretch Goals
$1000: Maternity / Mothers To Be Box- $1000.00
As both Mums and Beauty Therapists, we know how important it is to use clean, non-toxic self care products when you're expecting.
It is a critical time to really become conscious of what is going in to your body, and we'd love to make that easier for mums-to-be 💛
We would love to launch a gift box of the best maternity self care products and sustainable items. With every product used and approved by us, we relieve the pressures of going down internet rabbit holes trying to find out what products *really* work, and if the ingredients are beneficial.
The perfect baby shower gift, or gift to yourself and your impending bundle 🥰
Additional funding would help us pre-purchase these items and special gift boxes and launch this sweet offering to a demographic of very special people.