Overview
Like Tinder for your kids hand-me-downs.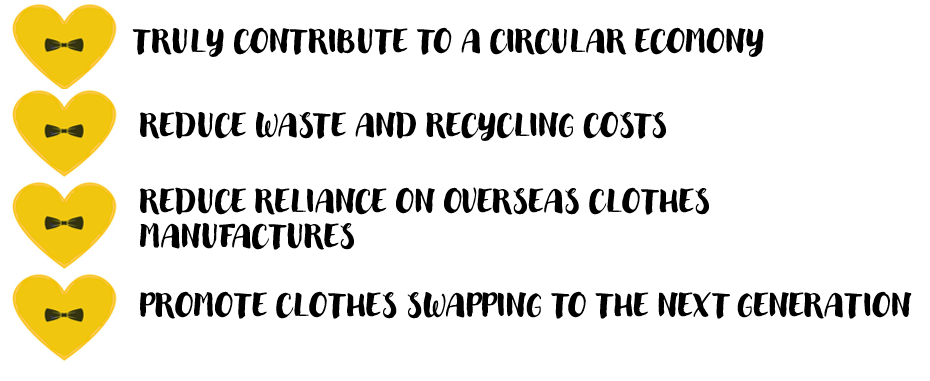 We have created a matching app that has launched a new community of socially and environmentally aware parents and families. Be connected instantly with parents and start receiving a brand new wardrobe for your children today! Instead of dumping clothes at charity's where there is a high chance it will end up in landfill, this guarantee's your high end hammys will be loved again. One time matches or a life-time of hand-me-downs for all future occasions!
There is no better time then now to switch to more sustainable measures day-to-day. Sustainability is becoming more and more mainstream and with over 50% of clothing consumers now considering second hand, swapping your kids clothes is an easy way to contribute to this global initiative.
Sign up today to be matched – https://www.highendhammydowns.com/
With two kids of my own, High End Hammy Downs was born out of frustration about the piles and piles of hand-me-downs that would sit in my kids closets, and then would sit in the boot of my car for months and months. I was tired of driving past overflowing lifeline bins, I knew I wanted to do more with my kids clothes. I was shocked when I found out that over 80% of discarded textiles go into landfill, there is simply too many hand-me-downs for charities to handle…. so why not swap some of them amongst ourselves. This movement will truly contribute to the circular economy, promote clothes swapping for future generations and engage ourselves in sustainability all to help save the planet…. and some money 😉
Currently we are still in start-up phase and have only just released this idea into the universe. High End Hammy Downs is now on all social platforms generating interest that will help investments decisions going forward. We are off to a good start with some well known Aussie female icons following our linked in account….. For right now funding is for a advertising and marketing burst to gauge real interest from the community. I need many members in order for this to work, as matching app members expect to be matched!

Rewards
Free membership to Premium Hammy's member - $100.00
Limited: 97 left of 100
Premium Hammys members includes;
– extended radius
– first look at new hammy members kids clothes
– unlimited matching
– discounts to high end children retail stores
Standard Hammys membership is free
Help bring this idea to life - $50.00
Backer Count: 0
Help bring this idea to life! For every $50 of support, you will get 2 customized thank you cookies to have a cuppa and a chat with someone special.
Stretch Goals
Funding for App- $200000.00
Ultimate goal is to build an app to automate the matching services with AI, ability for members to load pictures of hand-me-downs, and communicate in an efficient manner. I am lucky enough to work in the Technology industry and have access to developers, however am just lacking funding and marketing expertise.
$200k includes development of App, major website update and branding upgrade.
Extra funding could potential fund additional business ideas, such as sorting services, pick and drop off etc.
Thank you