Overview
She's A Crowd is the biggest geospatial dataset of sexual assault and street harassment in the world. Over 100,000 people have shared their stories through our crowdsourcing platform – these stories can help to make our cities safer and contribute to closing the global data gap. 
But we need to ensure our data gets to where it needs to go. 
That's where you come in. We are aiming to raise funds to ensure survivor's voices continue to be heard, and transform their stories into valuable data insights. These insights will be used to advocate for change, influence policy and design safer cities, spaces and services for survivors.
Your contribution will allow us to scale our impact.
Here's our Founder and CEO, Zoe, to tell us more about why we're doing this!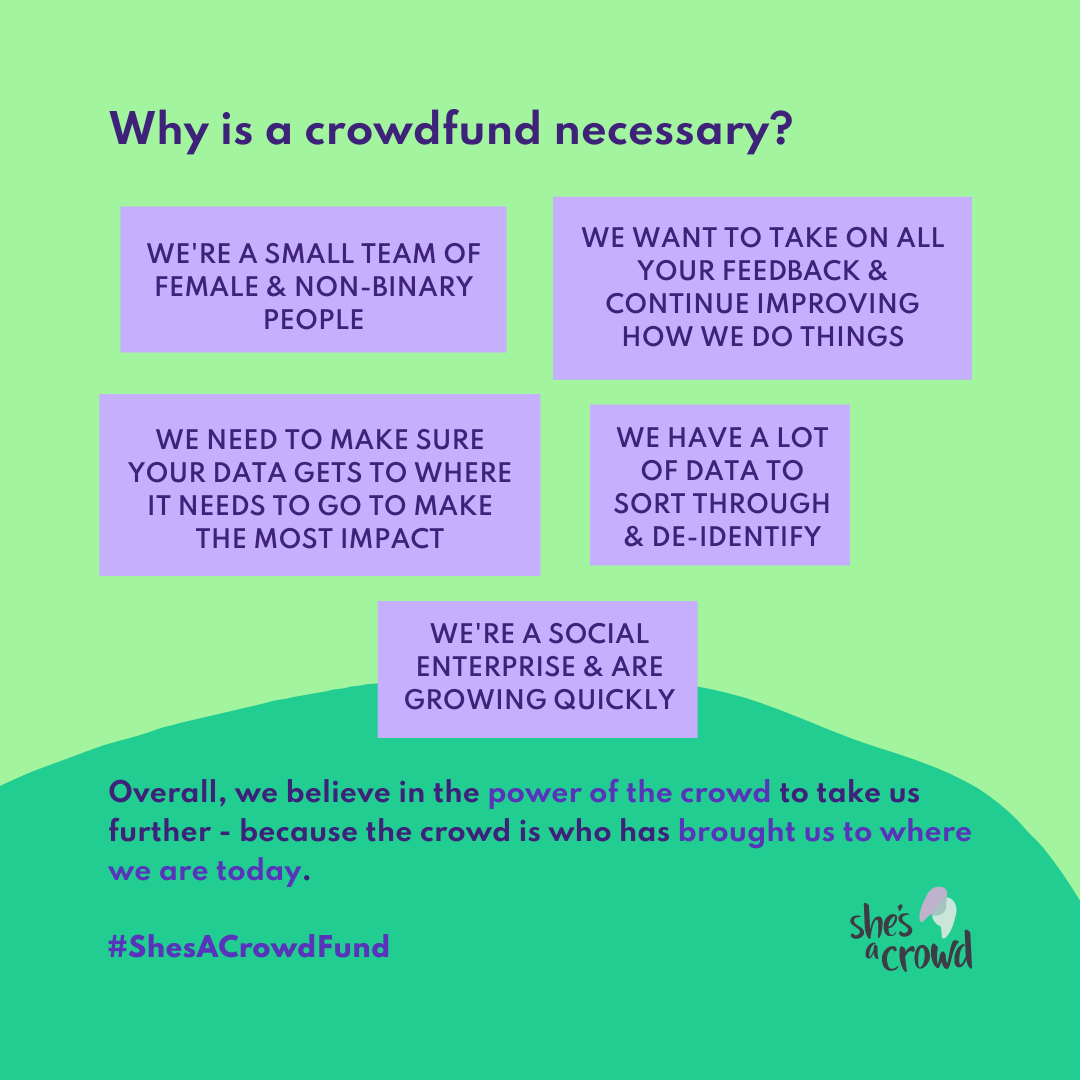 Why did Zoe start She's A Crowd?
After an abusive relationship changed her life, Zoë Condliffe started to share her story: "I remember the first time I stood up in front of an audience of hundreds at the Melbourne Town Hall, gathered all my courage, and shared my story. And in that moment of sharing, something incredible happened. I felt the shame in the room wither away." 
People started approaching Zoë for years after to share their own stories, and this is when she knew her life would be committed to addressing gender-based violence through the power of storytelling. Despite the amount of people who were coming forward with these experiences, Zoë "noticed that decision makers who were deeply committed to solving gender-based violence simply did not have the data they needed to address the problem." She's A Crowd was then born from a need to bridge this gap, and came to fruition during the beginnings of the #MeToo movement.
Why are we so passionate about ending gender-based violence?
Gender-based violence not only takes a significant toll on women and gender diverse people's lives, but also affects their families, local communities and society as a whole. 
We know that 9 in 10 Australian women have experienced street harassment and have had to modify their behaviour as a result (Australian Institute). We also know that on average, one woman a week is murdered by her current or former partner (Our Watch). Current statistics show that trans women, non-binary people, Indigenous women, cis women, women with disabilities and the LGBTQIA+ community are more likely to experience gender-based violence (Australian Institute). 
Alongside this, there is still a lack of available data. Oceania holds only 24% of global gender data (UN Women), and over 90% of survivors in Australia don't report to the authorities (Australian Institute). Without the information, we can't understand the full picture – and at She's A Crowd, we believe when you can't understand a problem, you can't fix it.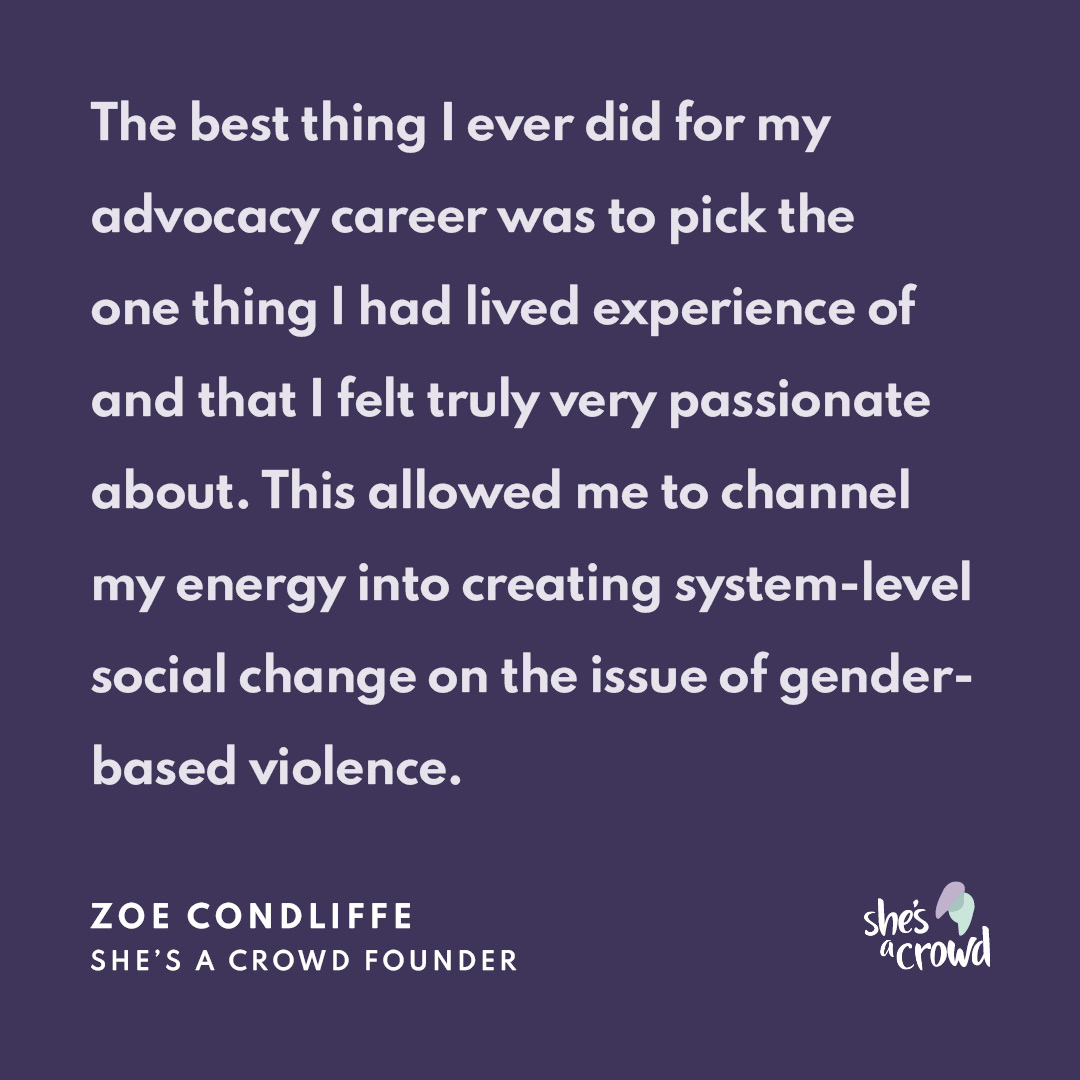 Since She's A Crowd was founded in 2018, we have been able to:
Provide a safe space for victim-survivors to share their story with us – with our database now consisting of over 100,000 reports globally 

We've worked on a number of

projects

with organisations in the government, not-profit and startup sector including Department of Transport Victoria, Bicycle Network and LUMI Ride to make the transport system, cycling and rideshare services safer for women and gender diverse people in Victoria

We have  supported a cohort of young activists through our

Raise The Crowd

program to advocate for safer communities

Contribute to the movement of ending gender-based violence in Australia through a number of awareness-raising campaigns and advocated for decision makers to ensure their policies are informed by diverse lived experiences

We have been recognised for our work by a number of awards/media outlets including Telstra Best of Business Awards (National Winner, Accelerating Women category), Women Leading Tech (Finalist, Entrepreneur category) and CEO Magazine Global (2022 World's Leading Change Makers to watch), among others.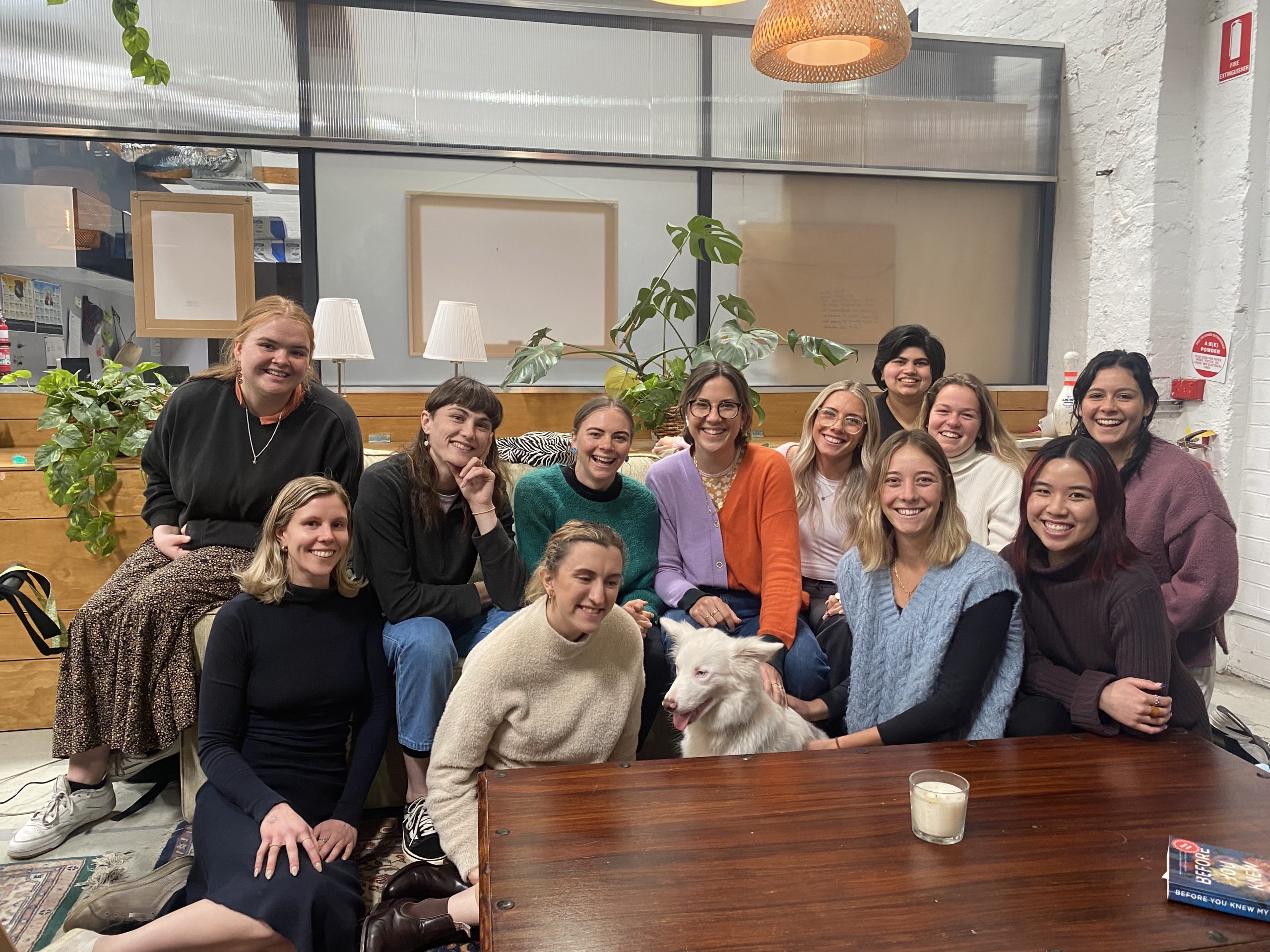 In a recent interview with MYOB, Zoë points out that "the way data is currently collected reflects existing oppressions or existing power dynamics within society. It is often sexist, racist, and ableist." In addition, barriers to reporting gender-based violence such as self-blame, fear of not being believed, and the possibility of re-lived trauma 'continually reinforce misleading data'. By taking a unique position, She's A Crowd aims to solve this problem through the collection of 'counter data' – information that counterbalances the widespread use of biased data. In this way, we can offer new and improved experience-led information that can positively influence the design of safer and more inclusive products and services. 
In the previous four years since She's A Crowd's inception, our focus has been invested into finessing our storytelling platform and data collection processes to ensure that it is truly survivor-centric and trauma-informed. However, in this next phase of She's A Crowd, we want to ensure that these data insights are getting to where they need to go – in the hands of decision makers. 
We are a small social enterprise consisting of an all-female and non-binary team. With over 100,000 reports globally, we are growing fast and need further support to continue delivering these data insights while building the bridge between survivors and decision makers.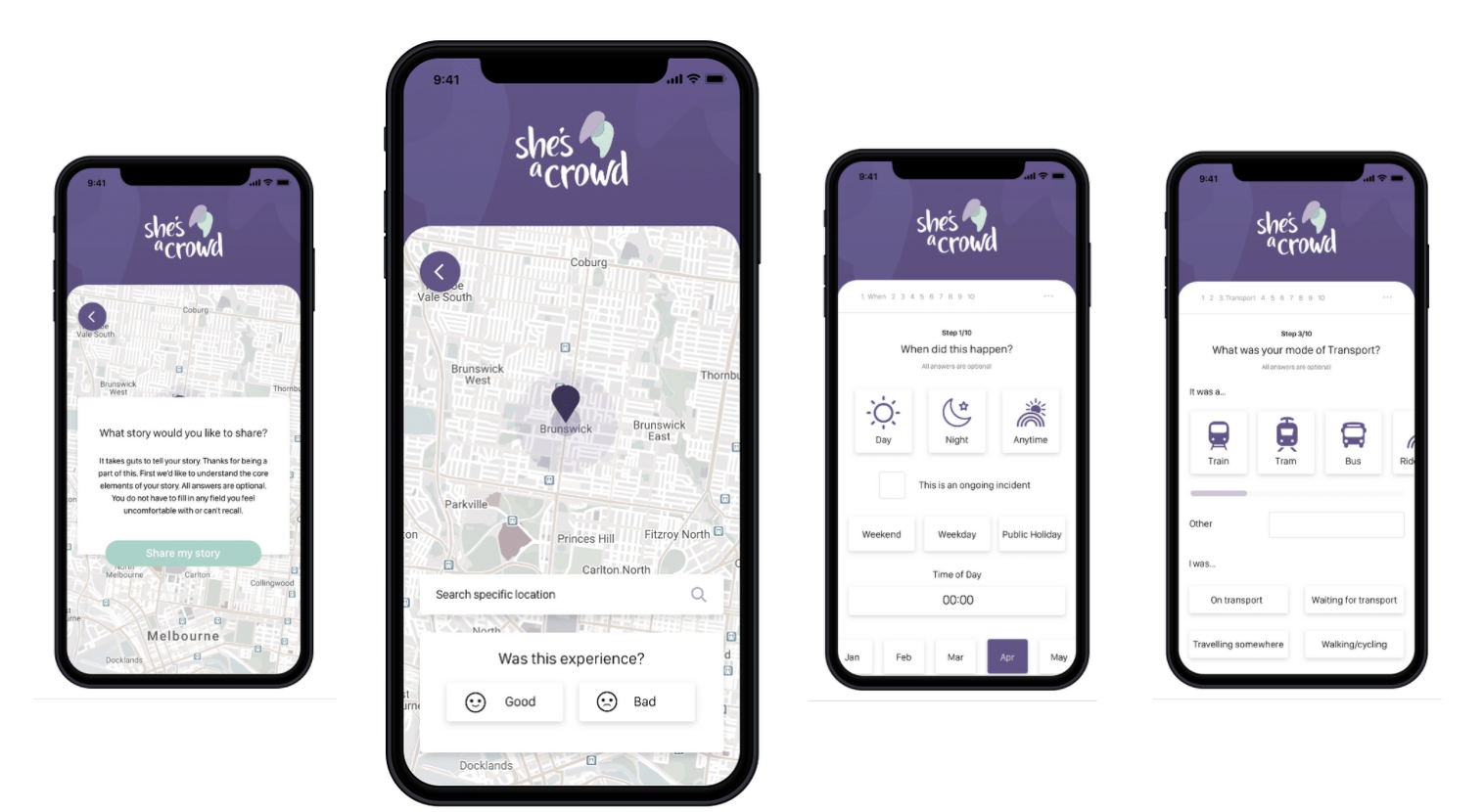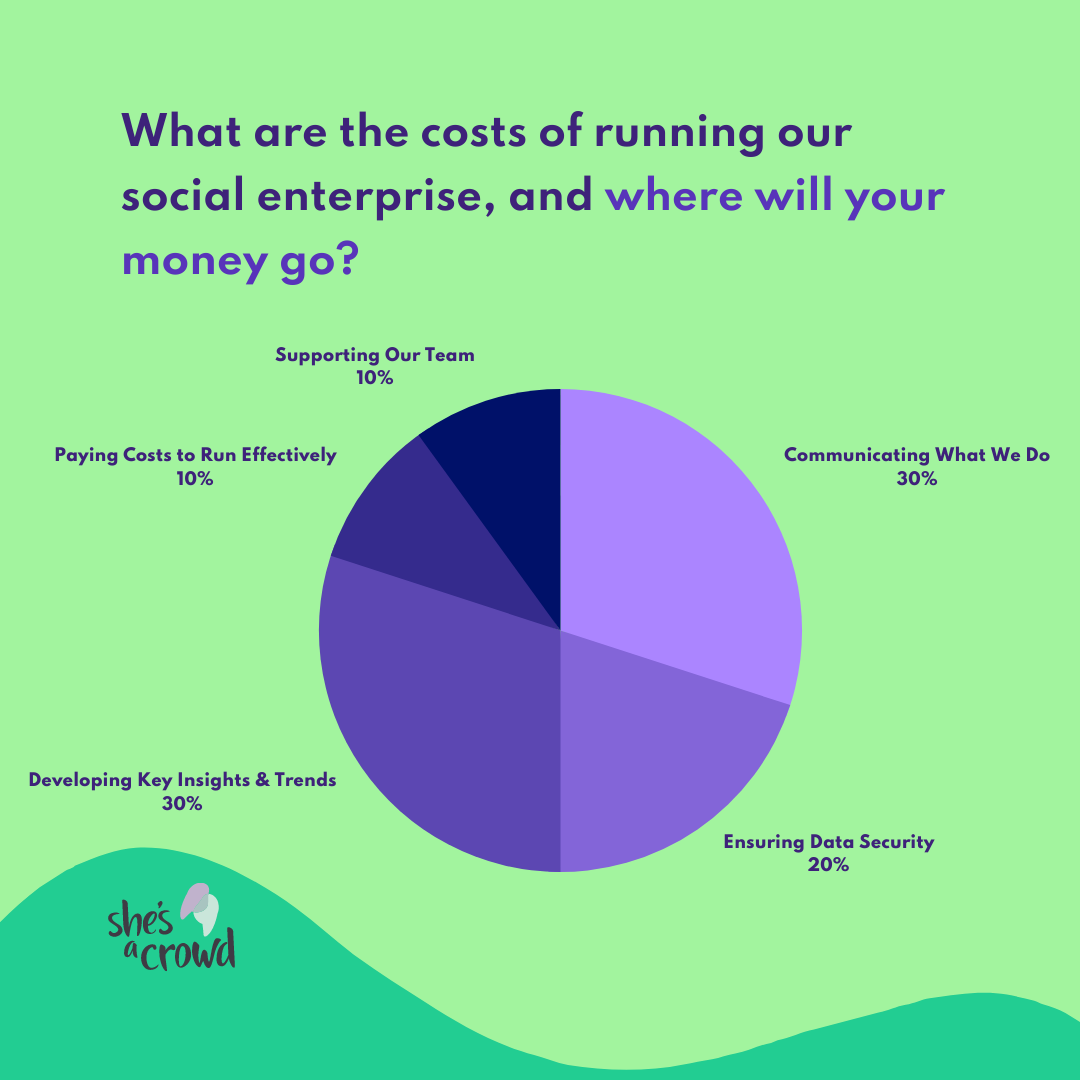 The funds raised from our campaign will be used to:
Design and build an interface for changemakers to access and use our data. This will allow anyone to use our data in prevention, policy and planning, and scale our impact.

Get the word out about what She's A Crowd does to ensure that we can work with as many decision makers across the government, corporate and not-profit sector

Ensure the data we collect is stored and managed in a safe and secure manner

Developing key data insights and trends for decision makers so they can make their community planning and policies safer for women and gender diverse people

Cover the fun stuff like paying our gmail subscription to ensure that we can continue sending out emails and advocate for a safer world

Support our team with professional mental health services to continue working in this difficult topic area 
Donating will help to ensure that our data gets to where it needs to go so that we can all live in a world free from gender-based violence. We believe in the power of the crowd to take us further, because it's what has brought us to where we are today!
We really appreciate any contribution you make to our campaign. If you don't have the means to donate, then sharing our campaign to your network would be super helpful too!
Thank you, as always, for all your support.
<3 #believesurvivors
Sincerely,
the she's a crowd team x
Rewards
She's A Crowd Hype Girl - $20.00
Limited: 183 left of 200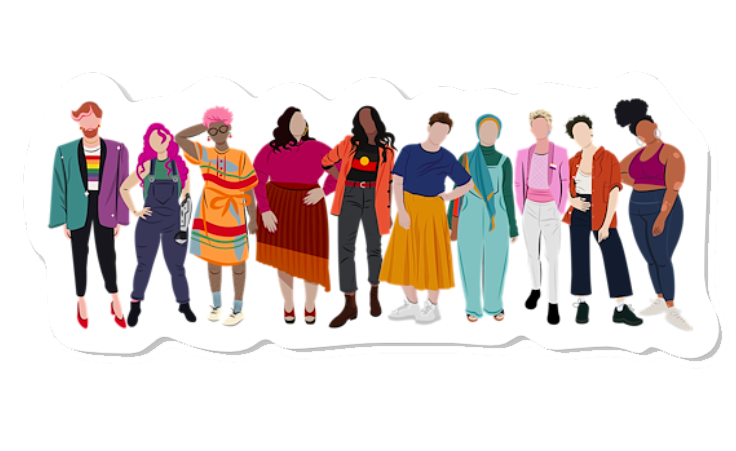 Thanks for being our hype person. You will receive a social media shoutout and an exclusive She's A Crowd family vinyl bumper sticker (pictured). Make sure you hit us up for the shoutout so we know it's you!
She's A Crowd Fangirl Pack - $50
Limited: 25 left of 50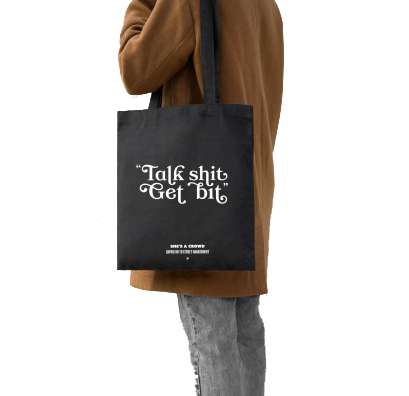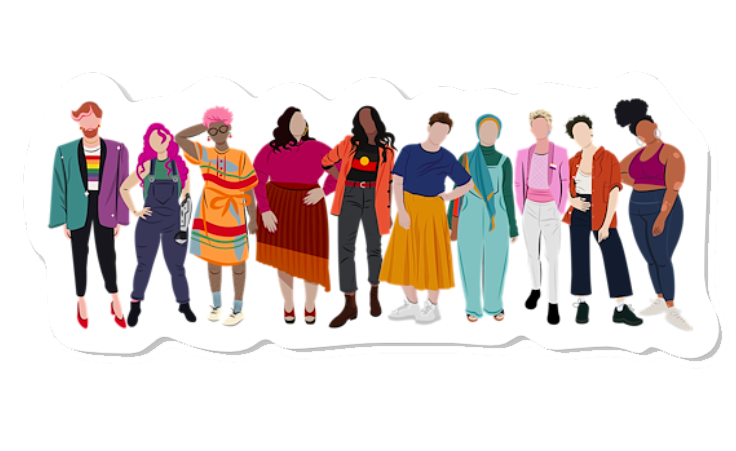 You're fangirling hard and we love to see it! Your contribution will go a long way to help us get your stories where they need to go. You will receive a She's A Crowd family vinyl bumper sticker, a sturdy AS Colour tote bag made from only the best materials (RRP $49, pictured) and a social media shoutout. Make sure you hit us up for the shoutout so we know it's you!
She's A Crowd Stan - $200
Limited: 41 left of 50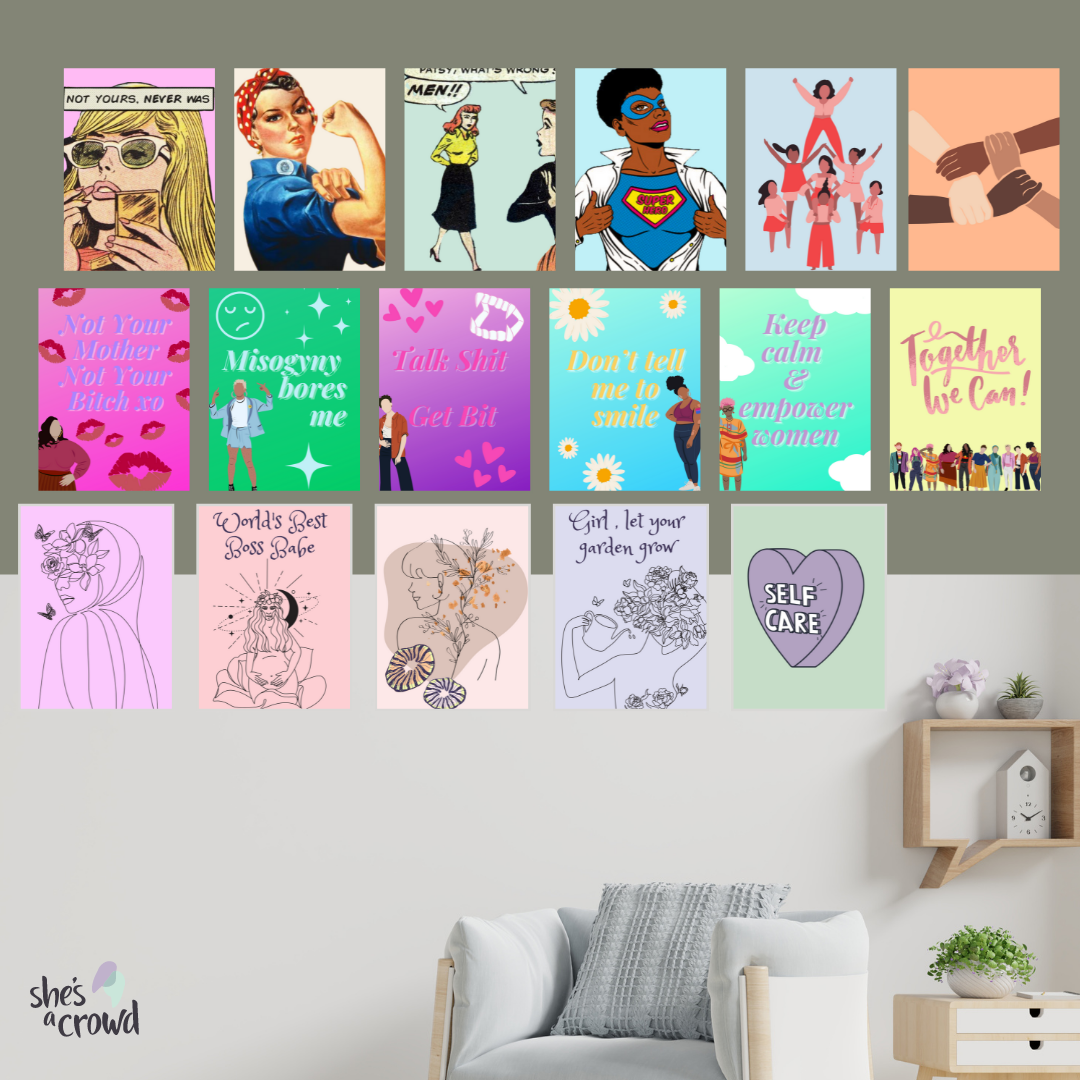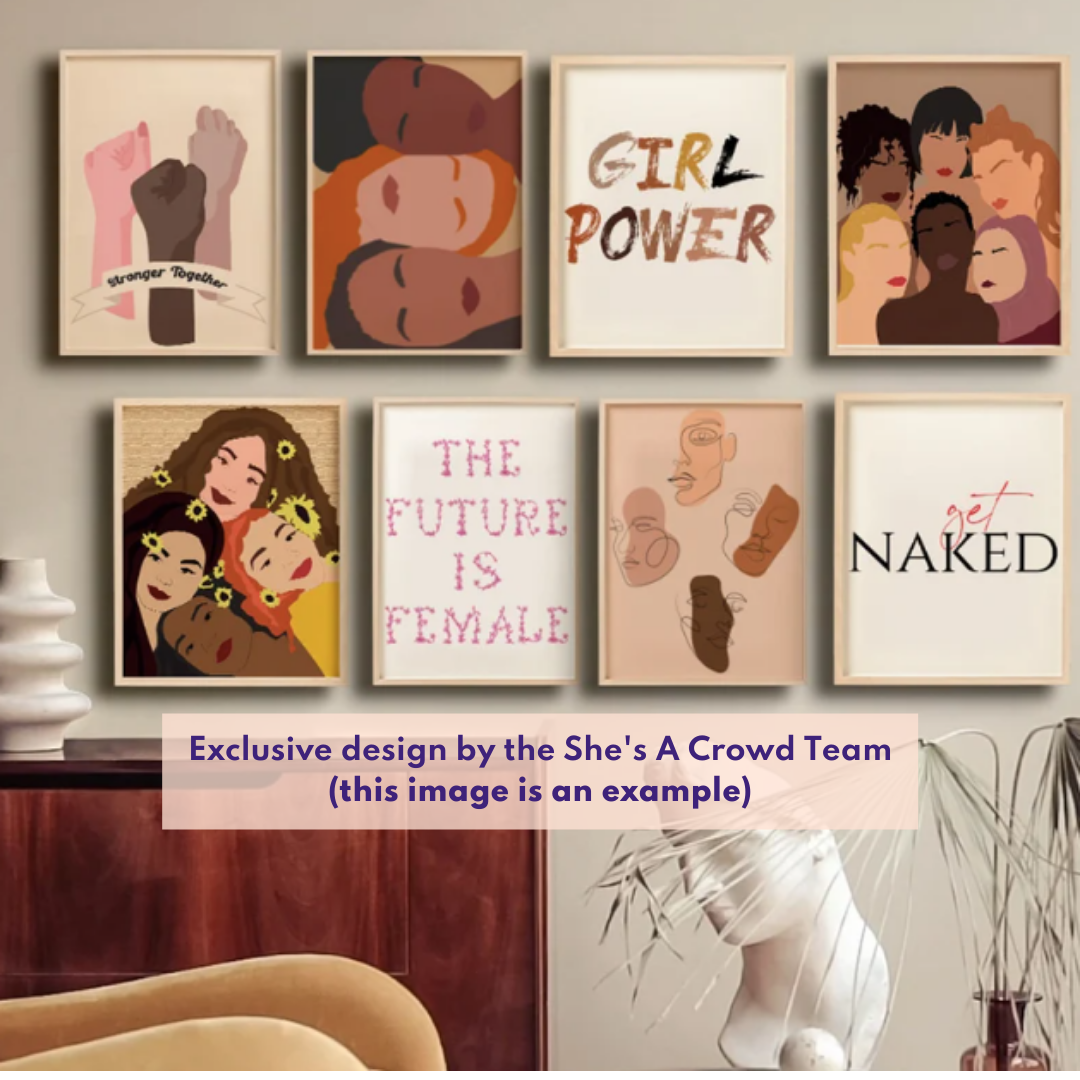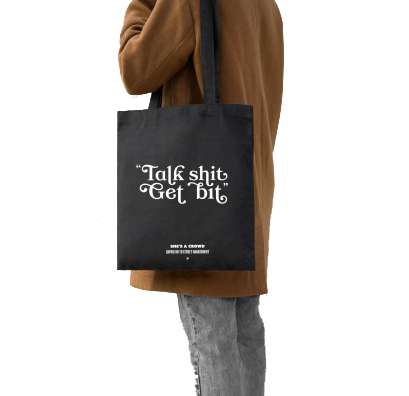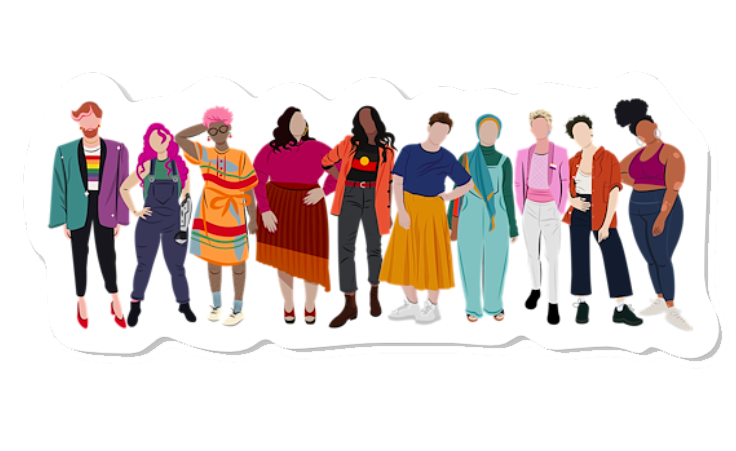 You stan us – tysm! You'll receive a She's A Crowd exclusively designed feminist poster pack for decorating your room, office, bathroom – because every feminist needs a room of one's own (these also double as gift cards if that's not your thing). You'll also be gifted our Talk Shit Get Bit Tote – made by AS Colour (RRP $49) and a She's A Crowd family vinyl bumper sticker. Oh, and a social media shoutout, of course.
She's A Crowd It Girl - $500
Limited: 5 left of 10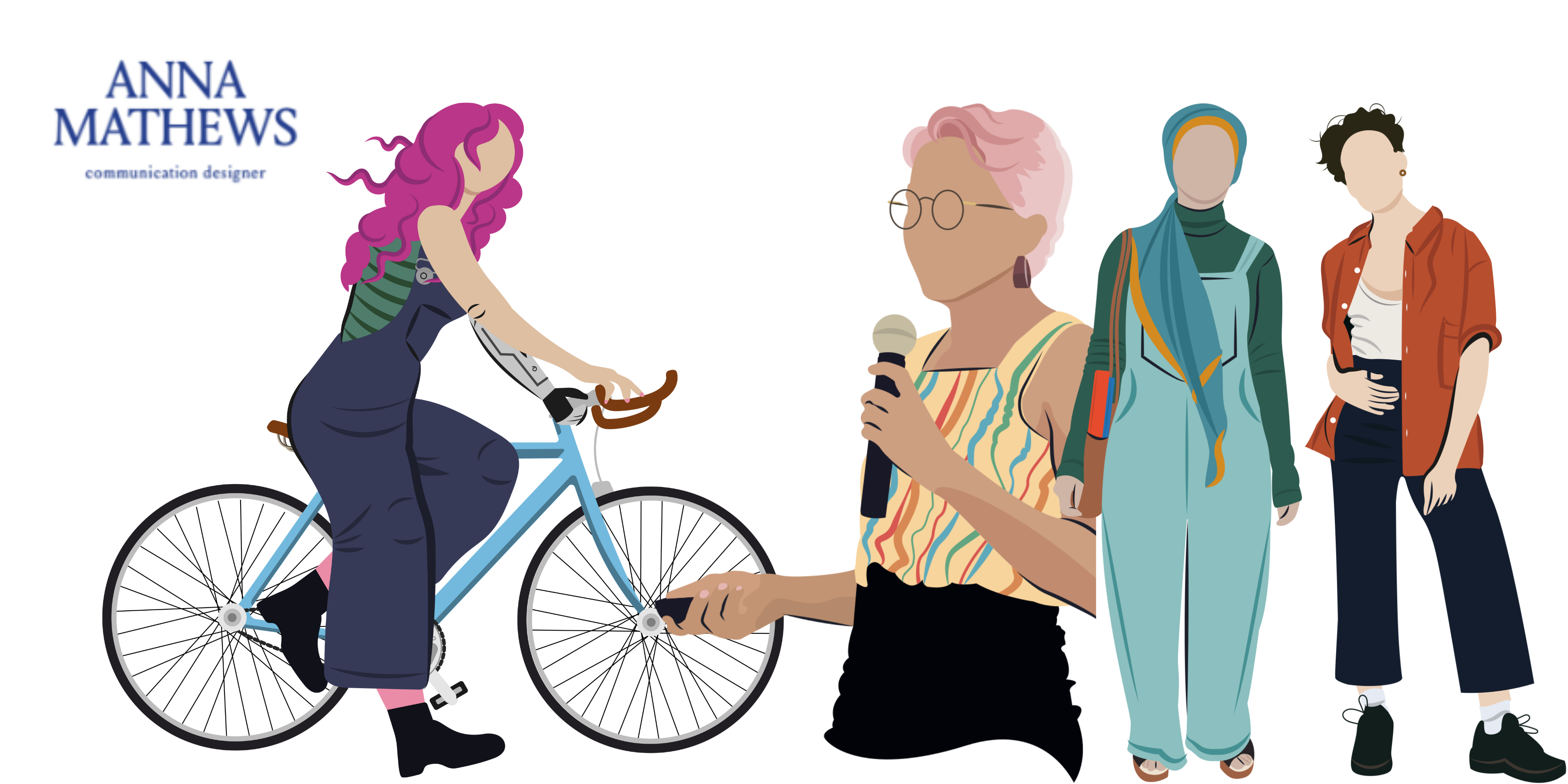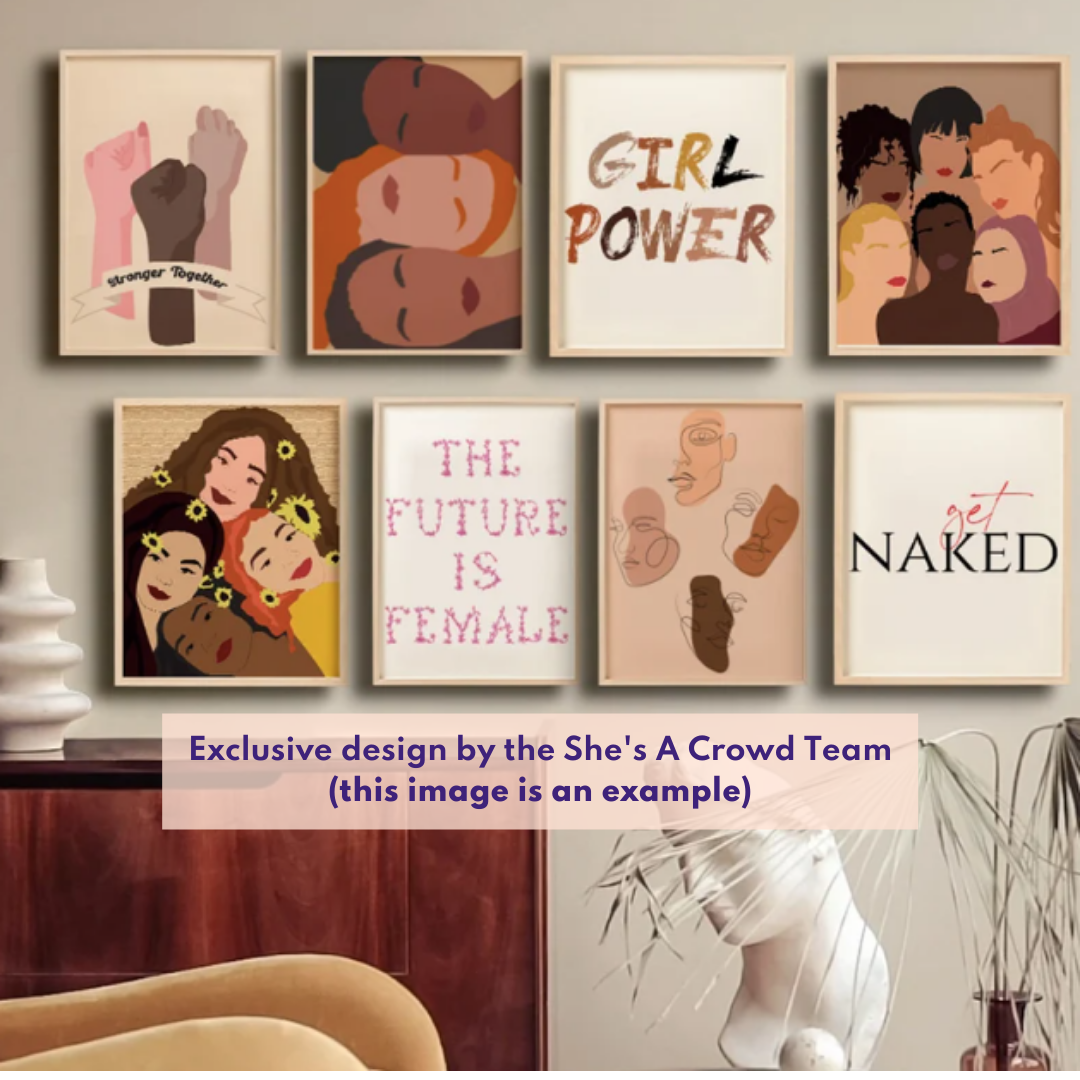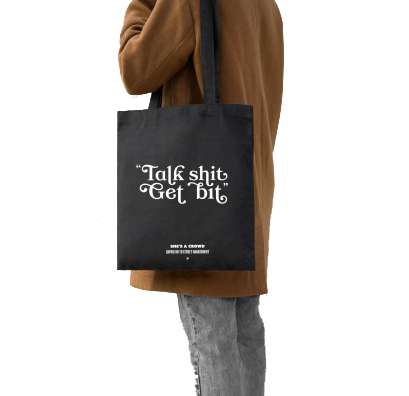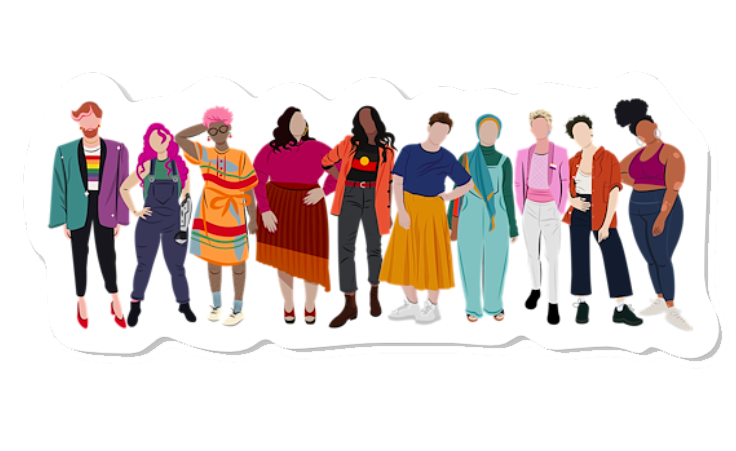 You're the best – thank you. To thank you for this generous donation you will receive a custom made virtual sticker (of yourself!) by the incredible Anna Matthews, our illustrator. It'll look a little like the ones featured. You will also receive the poster pack, the tote bag, the bumper sticker, and a personalised social media shoutout for being such a legend.
Stretch Goals
She's A Crowd Stretch Goal - $50000.00